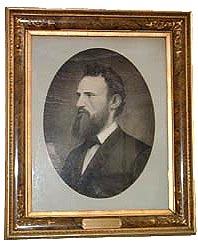 The John C. Hart Memorial Library received its charter from New York State on Sept. 3, 1920. The story of the Library and its founding family, however, begins much earlier.
Catherine Dresser, daughter of John C. Hart, died in 1916 and in her will she left her family homestead and 45 acres of land to the Town of Yorktown. The first appointments to the Library Board of Trustees were: Francis B. Chedsey, James C. Fowler, Charles W. Carpenter, President; Jonathan B. Currey, Charlotte Martens, George W. Salter, James N. Strang, Treasurer; Superintendent of the Town Ex-officio, and Annie E. Hendee.
Catherine's father, John C. Hart was born in Shrub Oak on June 22, 1822. He attended the district school in Shrub Oak and left in 1839 to work at Wheeler & Hart, a pharmacy in Manhattan, owned by his cousin. By the time he was 21, he had bought the store and married Mary Ann Allen, also his cousin and a wealthy widow, the daughter of Stephen Allen, a former Mayor of New York City. They had four daughters. A businessman in New York City, his permanent and year-round home was on 14th Street in Manhattan; but his heart was is Shrub Oak.
As a Child he often visited his older sister, who was married to John Hyatt, and who lived in the old Hyatt homestead – the house on East Main Street which close to 90 years later would become the first Hart Library. He returned in 1854 to purchase the house for his own. His sister and John Hyatt built another home nearby – the house now known as the Gateway Apartments. For John Hart and his family, this was to be summer home, a vacation get-away, a place to stay in touch with his roots.
The house underwent frequent remodeling, with no records left to tell us what was done or when. The 1988-89 renovation removed all the 19th Century addition and gutted the oldest part of the building leaving only the facade (or a facsimile since most of the walls and windows were rebuilt at that time in the style of the original) to project the image of the old house. Nothing remains except the memories recorded in letters, faded scrapbooks, an old picture of John Hart now hanging on the first floor in the paperback corner, – and a diary.
During three years of civil war, from 1864-1867, John Hart moved his family to the house in Shrub Oak and lived here year round. During that time he kept a diary, a "gentleman's farmers almanac". Recording weather, dates and times of plantings, success and failure of crops, the diary tells little of Hart's other life. From his writing a picture of a man with a passionate love of the land emerges, a man who lavished care on the house and grounds he'd grown up with and whose depth of feeling was revealed in the poetry he included in the diary.
John Coleridge Hart and his wife are buried in the Methodist Churchyard in Shrub Oak. He died too young, at age 49, on May 3, 1872.